Arrive OnePoint IoT Server Platform
The Arrive OnePoint™ IoT Server is a Unified Resource Management Software Platform. It comes as an enterprise class unified service package that enables central management of all the data and information requirements specifically tailored for meeting and learning spaces. It can be hosted on-premise or on a cloud service, and can be offered as a managed service as well.
OnePoint provisions and centrally manages room schedules, collaboration, space & facility management, as well as device automation and life-cycle based asset management. It provides calendar synchronization, scheduling management, and device specific application provisioning. It operates as a digital signage interface with announcements and video playback. In the room automation segment, Arrive OnePoint provides the unique "THIN-POINT" a single integrated automation platform that offers control panel design, integration with room environment & device control in one seamless control available on smartphones and tablets.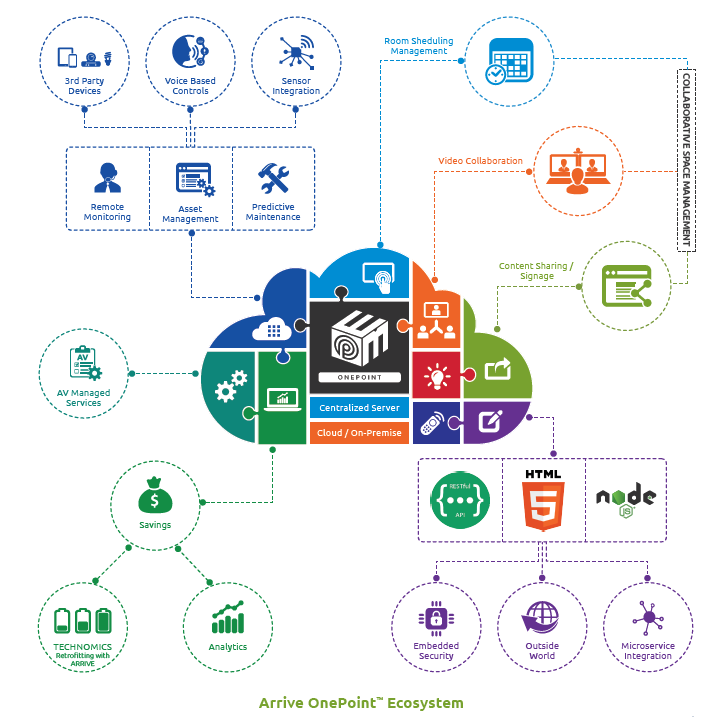 Arrive OnePoint runs on a physical or virtual Microsoft Windows Server 2008R2/2012/2016 server with IIS. It is the single point of inter operation for all third party services interaction required to provide the information services for ARRIVE's front end devices.
Arrive OnePoint can be accessed through:
Web Interface
Calendar Systems
Package versions:
Arrive OnePoint Server, by default, initially runs on a 30-day trial period which can be activated with valid license keys within or upon the trial period expiry. This free trial license is good for a five venues.
AOP-SERVER-05
OnePoint 2.0 Server software license for less than or equal to (=<) 5 devices on same LAN/WAN.
AOP-SERVER-05-UP
AOP-SERVER-5 + 5 (for every 5 additional rooms upgrade package).

AOP-STD-CFSS
Standard Arrive OnePoint Server - CarePoint Foundation Software Support for 1-100 devices.

Mandatory on first purchase. Annual coverage.
Sales Enquiry
Learn More